Help make Modern Together a way of life.
What do we mean by that? Every connection we make with our customer should be full of new possibilities. We expand people's creativity. We add color. We encourage individuality. We don't only make things – we give people great ideas. That's how we're MODERN TOGETHER. And in a role like these, you can be too.
Sales Associates
Friendly and outgoing, the Sales Associates' enthusiasm for our products makes shopping in our stores fun. Becoming product experts, they answer questions, keep the store tidy and knock out daily sales goals.
Stock Associates
Our masters of logistics, the Stock Associates use their energy and attention to detail to keep the sales floor stocked, perfectly lit and ready to shop. And thanks to them, our displays always match the latest trends.
Visual Merchants
It takes extraordinary creativity to ensure everything is looking just right. Our Visual Merchants execute the floorplan as stylishly as possible, making sure our customers are inspired every step of the way.
Store Management
Our leadership team at each store (including Floor, Night, Assistant, Operations and Store Managers) are our selling experts and set the tone for our operation – which is to say, fun, creative and ceaselessly modern.
Modern Together is sharing the same affection for each other as we do for what we make.
Working together, with each other (and with our customers) is a way of living together – sharing space, sharing ideas, trying new things and making it fun. And our teams really feel that way: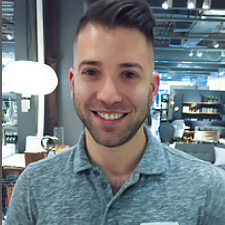 Andrew
Assistant Manager
I am excited to work for a company where I can be immersed in modern design and experience the evolution of trends on a daily basis. I love this because every day is an opportunity for me to share this experience with customers as well.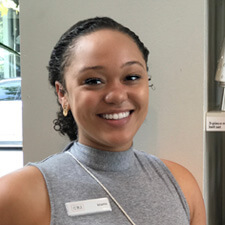 Brianna
Floor Manager
I like developing my team and building their confidence. The most enjoyable part of my day is when an associate I work with thanks me for helping them. I love knowing that the people on my team trust me enough to have their back in difficult customer service situations.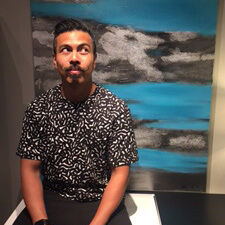 James
Visual Merchant
I love how there's always something new and exciting here. Like introducing a new customer to the brand or a beautiful new product. Or even learning something new about a fellow associate. Every day really is an adventure.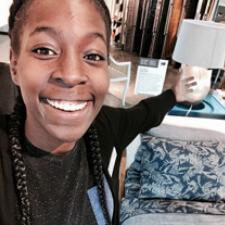 Keiana
Customer Service Associate
The most enjoyable part of my job is providing customers with prompt and excellent customer service. Doing this, there is customer satisfaction, which then brings me satisfaction.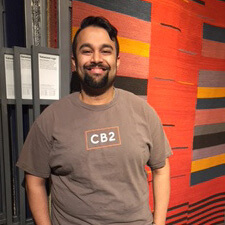 Tashfique
Stock Associate
I enjoy working day in and day out with people that have turned out to be a family. The best part about working here is how we all feel comfortable with one another. We always take the opportunity to teach each other and we're all always willing to learn.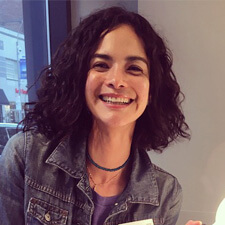 Erely
Sales Lead
What I enjoy most about working at CB2 is that it gives me the opportunity to connect with people. I love assisting customers in the process of creating – from getting to know their homes or projects to providing product knowledge and helping them with their needs.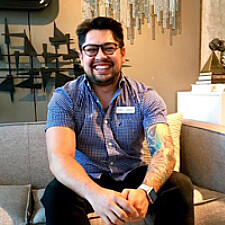 Sebastian
Store Manager
As a Store Manager of CB2, it allows me to create and establish a sense of "family" with my team and surrounding community. When a customer shops at our CB2 store, they feel at home.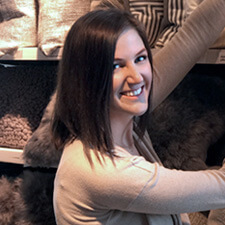 Julia
Night Manager
My favorite part of working for CB2 is that I get to be creative every day. Helping customers find products that transform their space is so much fun – and I've met lifelong friends while I've been here.
How Can You and CB2 be Modern Together.
At CB2, we partner with unexpected thinkers as much as like-minded makers. And we trust in collaboration because that's the best way to create unique solutions. In fact, we believe that people mix as well as our products do. After all, eclecticism makes everything richer. All it really takes is the right kind of people working together, ready to contribute to people's lives.
Be friendly and approachable with great communication skills that can be applied to both customer and associate interactions.

Work well alongside others, understand the value of a team and know the power of working together.

Take our customer service standards to heart, making every interaction a memorable experience.

Stay organized and on top of things, including the tasks at hand and the current floorplan of our products.
Don't See Anything of Interest?
Join our Talent Community to stay in the loop with our job news and opportunities.
Sign Up